We are air to water heat pump production base, we provide cold climate air to water heat pump products Heat pumps, which have been around for decades, use the same cooling cycle as all air conditioners. In addition to cost savings, heat pumps are able to provide heating and cooling loads for buildings.We offer simple and fast heat pump. All you need to do is write a simple email
What is air to water heat pump?
Simple selection of air source, high temperature warmness pump market, EVI air supply warmness pump, swimming pool National CCC Certification and and many others., choose whatever you want. excessive performance and fair price warmness pump, with global well-known components consisting of Copeland and Panasonic compressor, valves and and so on., Integrated wholesale air to Water classic heat pump Water Heater examined in country wide proved laboratory, a long-lasting consolation on your own family.
unlike most different warmness pumps available on the market, our bloodless climate warmness pump uses an air-to-water principle. A hydronic heat pump has many advantages over conventional air-to-air warmness pumps. Our water heating machine gadgets can provide advanced power garage via a buffer tank.
gomon manufacturing center monitors all of the manufacturing strains by means of MES gadget to improve the efficiency. As one in all the most important largest Europe's top cold climate heat pump manufacturers, our each day manufacturing capability can gain 1600 Indoor Outdoor Unit.
Technical specification
Model
KRS118B–350V
KRS118B–420V
Tank Capacity
350L
420L
Inner Tank Material
Enamelled Steel
(Steel BTC340R, 2.5mm thickness)
Enamelled Steel
(Steel BTC340R, 2.5mm thickness)
Outer casing
Painted galvanized steel
Painted galvanized steel
Tank Rated Working Pressure
0.8MPa
0.8MPa
Waterproof grade
IPX4
IPX4
Condenser
Micro-Channel Heat Exchanger
Micro-Channel Heat Exchanger
Electric Element Power
2500W
2500W
Heat Pump Rated Input
1300W
1300W
Heat Pump Output
5300W
5300W
Max. Input Power
5000W
5000W
Heating Capacity
118L/H
118L/H
Max. Water Temperature
75℃
75℃
Voltage
~220-240V / 50Hz
~220-240V / 50Hz
Refrigerant
R134a
R134a
Cop
4.08
4.08
Inlet / Outlet size
¾"
¾"
Control Method
Remote display
Remote display
Noise Level
45dB(A)
45dB(A)
Dimensions
675×937×1720
735×1006×1720
What is Cold climate air to water heat pump?
Air source heat pumps do not require ground loop installation, so the upfront installation cost is lower compared to ground source heat pumps. Therefore, this can make air to water heat pumps an attractive solution, depending on local conditions and budgets. GOMON, a leader in heat pump technology, has made a number of adjustments to "traditional" air source heat pump designs to produce high efficiency even at extremely low outdoor air temperatures.
The extensive drop in performance at low ambient temperatures restricted use of early technology air-to-air heat pumps in cold climates.
even though cold climate ductless mini-cut up warmness pumps have carved out a nice market percentage over the past decade, they still rely on forced-air shipping of heating and cooling.
The efficiency of a heat pump is measured as COP, which is the ratio of renewable sources of electrical energy input to energy output. EVI DC inverter compressor offers the absolute highest COP in the industry. Even at -20 C (-5F), COP of our heat pump is greater than 2. This effectively means that for every 1 Kw of energy consumed by the heat pump, it produces 2 Kw of heat.
This effectively cuts your heating cost in half. However, most homeowners do not live in a constant -25 C (-15F) environment, the more thermal efficient our heat pumps are! Our heat pump has a COP of 3.5 at freezing temperature (0C / 32F). This means that for every 1 kW of input power, 3.5 kW of heat can be generated, thus reducing your heating bill by 70%!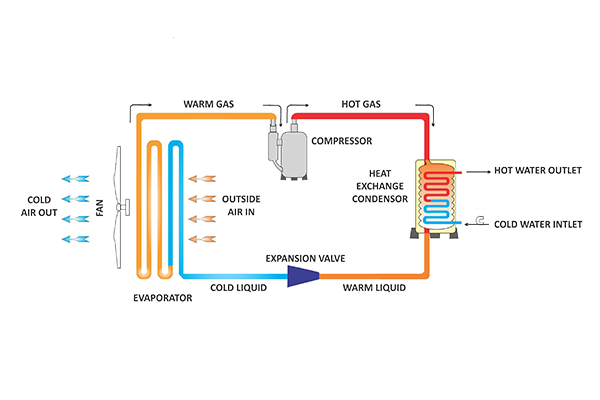 How much air to water heat pump wholesale price?
in reality, electric powered water heaters account for an average of 18 percent of your electricity expenses. electric heat pump water heater The older your water heater the less power green its miles.
If each household inside the united states used a warmth pump water heater (under fifty-five gallons), the strength fee financial savings would pinnacle at $eight.2 billion greenbacks a yr, in line with renewable energies megastar.
Warm pump (hybrid) hot water residential water heaters cost from $1,2 hundred for 50-gallon tanks to $2,500 for eighty-gallon tanks made by the best cease producers. The tank size and product exceptional influence the unit fee most. As of 2021, the common 50-gallon resistance water heater charges $400, whereas an ordinary warmth effective air source heat pump 50-gallon water heater fees $1100.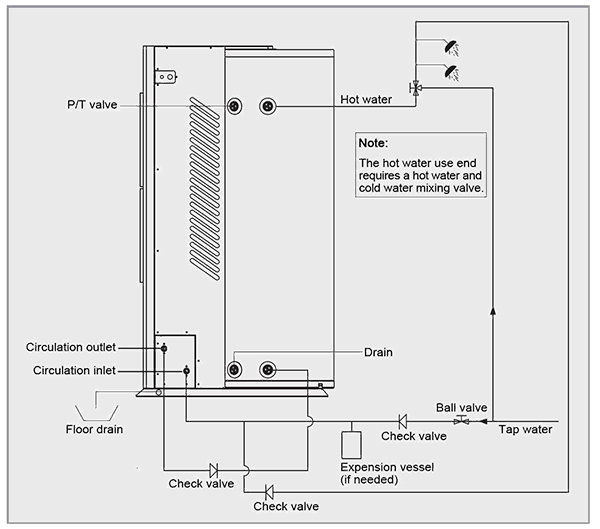 Choosing the right heat pump size is important
Heat pumps differ from furnaces, electric plates, and most other heating high velocity systems in one important respect: they produce different amounts of heat depending on the temperature.
air-to-water warmth pumps and the various array of hydronic emitters to be had to pick from for operation in a cutting-edge hydronic low temperature machine.
"cold climate" air-supply warmness pump capable of severe low ambient heating performance down to -22°F.
Water-to-water warmth pumps, or geothermal warmness-pumps, work by means of installing multiple "earth loops," or water traces, at some point of your the front yard.
Most heat pumps have variable speed motors that provide a stable comfortable temperature instead of constantly turning on and off. However, if your device is oversized, even the variable speed model will turn on and off frequently, as its minimum speed may still overheat your house.
How can heat pumps help you save money in cold climates?
Will a heat pump save you money, or at least break even, compared to your other HVAC options? A University of California Davis study estimates that 32 percent of households in the United States (including many in very cold areas) would save money by switching to whole-house Solar Thermal Assist heat pump systems, a savings that could increase if subsidies for heat pumps become more common, especially if fuel prices remain as high relative to electricity as they currently are.
Which heat pump is best for cold climates?
based on our studies, the exceptional cold climate warmth pump is gomon's Hyper-Heating, or H2i. listed as GOMON's M-collection or P-collection for home installation, those warmth pumps preserve their complete heating ability all the way down to 5F, and might produce beneficial warmness right down to -13F.
Are heat pump water heaters worth it in cold climates?
heat pump water heaters are an extremely good way to keep strength and paintings correctly even in bloodless climates.
Can you use a heat pump in a cold climate?
At temperatures below -20°F, bloodless climate warmth pumps nevertheless offer reliable warmness, and many fashions are 100% efficient at sub-freezing temperatures. because they consume less power in mild climate, ASHPs value an awful lot much less to function than legacy structures like combustion furnaces and boilers.
Why don t heat pumps work in cold weather?
popular warmth pumps can lose their heating capacity (that is, how large a area they're able keep heat) as the outdoor temperature drops. So a warmth pump that can maintain your house at ease while it's far 40° F outside might war under 25° F.
This air to water air source heat pump is a true cold climate heat pump. Made in China for winter!
Feature
Indoor unit – Industry leading appearance exquisite.
High performance outdoor unit – provides excellent heating in cold temperatures and efficient cooling in hot climates. Hinged doors for easy maintenance. A raised mounting leg kit is provided.
Fan device – Outdoor unit maximum energy efficiency and minimum maintenance.
Intelligent Defrosting logic – Minimizes the amount of energy required to defrost outdoor coils.
Outdoor ice tank design — no bottom tray and outdoor coil with Angle, no ice accumulation.
Compressor – double isolation, quiet operation; Located in indoor unit for cold weather service and better refrigerant/oil management.
Electronic control panel – with external two – line digital user interface. Including automatic hot water output control based on outdoor temperature, data logging, Internet and laptop USB.
Refrigerant pressure sensor – electronic high and low, as shown by the user interface.
Electronic Expansion Valve (EEV) — For accurate refrigerant control.
Start capacitor kit and suction accumulator.
Domestic hot water – Factory installed double wall heat exchanger This is a Nordic feature unique to the air source market.
What is high overall performance Air source heat pumps?
Air source heat pumps require no ground loop set up and are therefore cheaper upfront to put in compared to a geothermal heat pump. As a result, this may make the Air to Water heat pump an attractive solution relying on local situations and budget.
high overall performance outside Unit – for advanced heating in bloodless temperatures & green cooling in hot climates. Hinge set up door for ease of carrier. Raised mounting leg kits to be had.
ypically, one heat pump according to room or a multi-area set-up is essential for complete-domestic heating. at the same time as effective in cold climate, an air-source warmth pump frequently calls for supplemental heat on subzero days.
What Heat Pump to Choose in Northern Alaska?
They'll struggle to maintain your property secure even in a moderate cold snap, the story is going, and that they won't run efficiently in that form of climate, besides. if you need high-performance electric heating in a cold weather, they are saying, you'll need an expensive, tough-to-install ground-source warmness pump, which absorbs warmth from underground.
ncluding many in very bloodless areas) will store money via switching to an entire-domestic heat pump gadget, and if subsidies for warmth pumps come to be greater not unusual, that savings ought to growth, specifically if the rate of gasoline remains as excessive relative to energy as it presently is.
but, there is still uncertainty about the overall performance of ASHPs in cold climates–including how they live defrosted on the coldest days of the year. In extra northern regions of Alaska, researchers are assessing the financial and climatic situations where it could make sense to put in an ASHP.
cold climates heat pumps present day performance metric
in addition, supplemental statistics furnished with the aid of producers to demonstrate performance in cold temperatures isn't standardized or constant. The present day performance metric (HSPF) does now not consist of low temperature testing points underneath 17°F, assumes the use of electric resistance factors, and tests in steady-country operation
overlaying the inspiration of cold climate air supply warmth pumps currently available on the market,provide a useful resource to applications, producers, contractors, and purchasers to drive adoption of warmth pumps in bloodless climates.warmth pump generation used to be confined to southern regions of the u . s .. over the last five-10 years, heat pumps have been stepped forward and designed to function in bloodless climates.
Cold climate related products
You may like: