Air to Water Heat Pump Dimensions: The measurements for an air to water heat pump depend on the size, model, and type of system. These measurements can range from external cabinet sizes to internal components and piping.
Hot Water: Hot water is water that is heated to a specified temperature, usually above the boiling point of water. It can be used in a variety of applications, such as washing, heating, cooking and bathing.
Pump Installation: Pump installation is the process of installing a pump in a way that ensures its effective operation and optimal performance. This process involves planning, preparation, positioning, mounting and electrical wiring. It is important to adhere to safety protocols and adhere to local laws, codes and regulations.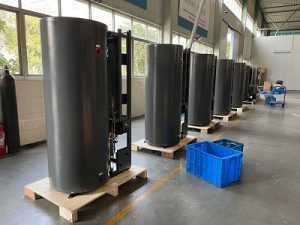 What is air to water heat pump dimensions?
In terms of physical size, your new air source heat pump is usually 1 to 1.5 meters tall and 0.5 to 1 meter wide, roughly the size of a standard washing machine.
They typically weigh between 60 and 100 kilograms, about the same as the average British adult.
Technical Parameters:
Model
KRS38A-160V
KRS38A-200V
Tank Capacity
160L
200L
Inner Tank Material
Enamelled Steel
(Steel BTC340R, 2.5mm thickness)
Enamelled Steel
(Steel BTC340R, 2.5mm thickness)
Outer casing
Painted galvanized steel
Painted galvanized steel
Tank Rated Working Pressure
0.8MPa
0.8MPa
Waterproof grade
IPX4
IPX4
Condenser
Micro-Channel Heat Exchanger
Micro-Channel Heat Exchanger
Electric Element Power
2500W
2500W
Heat Pump Rated Input
420W
420W
Heat Pump Output
1780W
1780W
Max. Input Power
3200W
3200W
Heating Capacity
38L/H
38L/H
Max. Water Temperature
75℃
75℃
Voltage
~220-240V / 50Hz
~220-240V / 50Hz
Refrigerant
R134a
R134a
Cop
4.25
4.25
Inlet / Outlet size
¾"
¾"
Control Method
Touch screen
Touch screen
Noise Level
40dB(A)
40dB(A)
Dimensions
Ø525×1735mm
Ø525×1955mm
Space need
Depending on the type of heat pump you want, the output power you need and whether you have an existing hot water storage tank, you need some outdoor and indoor space to install a new air source heat pump.
monoblock pump
Single heat pump only occupies the space outside the property. How much space the whole unit needs depends on its output, which directly affects the size of the unit. For example, if you live in a house with 2 -3 beds, you will need an integral heat pump with an output of 5-9 kW.
Split heat pump
The outdoor unit of split heat pump is usually smaller than that of single pump, but there are also indoor units. The size of the outdoor unit may also be related to the required output. For a 2-3 bed house with an output power requirement of 5-9kW.
What are the dimensions of a heat pump?
Heat pump size and location requirements-the physical size will vary according to the output and type, but it will be larger than the gas boiler with the same capacity. Generally, the size of a 12 kW (heated) single packaging unit is about 1500× 1200× 750 mm..
How do you size an air to water heat pump?
Generally, the bigger the house, the bigger the heat pump. Depending on the heat loss, building age and room type, a 100-square-meter house may need a 4kW ground source heat pump or a 5kW air source heat pump. For a house of 200 square meters, this is doubled to 8kW or 10kW respectively.
How much space do you need around an air source heat pump?
In order to obtain the best efficiency, it is best to leave at least 30 cm of space around the side and rear of the heat pump, and 1.5 m of barrier-free space in front.
Air to water heat pumps aredevices that use air to transfer energy and heat from one source to another. The size of air to water heat pumps varies depending on the size of the home it is being used for. Generally, these pumps are quite large, measuring from 3.2 to 4.8 feet in length, and from 2.4 to 3.0 feet in width and from 2.4 to 3.2 feet in height. Additionally, these air to water heat pump dealer can weigh anywhere from 200 to 300 pounds. As these devices are quite large, it is important to ensure that you have the space for them before purchasing. In conclusion, air to water heat pumps are able to efficiently transfer energy and heat, but they can be quite large, so it is essential to first consider the size of your home before purchasing one.